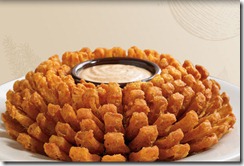 Participating Outback Steakhouse restaurants are  offering guests a free Bloomin' Onion appetizer, with a purchase,  in a promotion  tied to the Outback Bowl football game.
The free Aussie-Tizer  is offered is  January 2 with any purchase, for guests who mention Outback Bowl.
The appetizer on the house is limited to one per table, per check. Some other restrictions and exceptions apply.