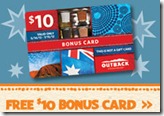 With purchase of $50 in gift vouchers, Outback Steakhouse offers a $10 bonus.
The deal, which is similar to an offer from other restaurants, is an incentive when shopping for occasions such as Mother's Day, Father's Day and graduations.
The offer is  available to June 17.
Generally, restaurant bonus cards need to be redeemed within a specific time frame.
Some other restaurants offering $10 bonus cards with purchase of gift cards include Brio and Carrabba's.